The Umbwe Route
Umbwe Route statistics:
Durations: 4-6 days ascent only; total including descent: 5-7 days;
Distance: 27.71km/17.25 miles ascent on regular route; 20.6km/12.75 miles descent; total walking 48.31km/30 miles)
The Umbwe Route is widely regarded as the hardest trail. It's a tough, sometimes near-vertical slog through the jungle. In places you will use the tree roots like rungs on a ladder.
But it's worth it.
Having reached the Southern Circular Route, trekkers have a choice; the same choice that Machame and Lemosho trekkers also have.
The first and less popular option is to continue north-west to tackle Kibo from the west and the difficult Western Breach Route.
The second, more popular and, perhaps, more sensible option is to head east to Barafu and approach the summit from there.
The entire walk up and down takes a minimum of five days whether going via the Barafu Campsite (a walk of 27.71km in total) or via the Western Breach/Arrow Glacier (a total distance of 24.35km).
Either is entirely too rapid, so try to take a minimum of six days.
We really love the Umbwe Route, and are both surprised – and delighted – that others don't feel similarly. Indeed, many agencies, out of sheer ignorance, don't offer treks on this trail at all. But that's just fine, because it enables more open-minded trekkers to enjoy the trail in peace.
We like Umbwe so much, we've actually written a whole post about it. Follow this link to find out why we think the Umbwe Route is the mountain's best-kept secret.
HOW DIFFICULT IS IT?
Despite its reputation as the toughest trek, the Umbwe Route is still a non-technical climb. Taxing, but not technical. All you need are an iron will and calves of steel; this is truly a trek to test your mettle.
The difficulty is that it's so damn relentlessly uphill. Indeed, looking back on the first couple of days, we can think of very few places where you actually descend at all, the longest being the five minutes or so towards the end of the second stage as you approach Barranco Campsite.
WHAT ARE THE ADVANTAGES OF THIS TRAIL?
As far as rewards go, while your calves and thighs will curse the day God paired them with somebody who would want to undertake such a climb, your heart and lungs will be thankful for the workout.
Your eyes, too, will be grateful you chose Umbwe as they feast upon the scenery. This is particularly true on the second morning as you leave the forest and find yourself walking on a narrow ridge between spindly heathers. The gobsmacking views on either side here are amongst the most dramatic the mountain has to offer.
Your ears, too, will be glad that they're stuck to the side of your head rather than anyone else's for they'll enjoy the break, this being the quietest trail of them all – at least until the second day when you find yourself joining the hordes at Barranco Camp, the busiest on the mountain.
ARE THERE ALTERNATIVE TRAILS ON THIS PATH?
When trekkers on the Umbwe Route arrive at Barranco, they have a choice: east and round to Barafu Campsite to access the summit via Stella Point; or, if you hanker after the quieter, more dramatic option, you could have joined the path up to Lava Tower to continue to the summit via the Western Breach. The latter option is the connoisseurs' choice, no doubt, though it is also an extremely risky strategy unless you have taken at least one – and preferably two – acclimatization days en route to the Arrow Glacier Hut. Otherwise, the trip from Moshi up to Arrow Glacier Hut, an increase in altitude of almost 4000m, will have taken you just three days, which is far too rapid.
The saner alternative is to head from Barranco to Barafu Campsites –  and this is what most people do. It's also what we describe in the itinerary, below.
So that's Umbwe: dramatic views, blessed solitude and some terrific, invigorating walking – and all without the clutter and chatter of other trekkers. Those who know the mountain consider it Kili's best-kept secret. And it's hard to argue with that.
THE UMBWE ROUTE ITINERARY
Despite a reputation as the most difficult climb, Umbwe is still just a trek. This must be emphasised: there is no actual climbing involved.
That said, it is steep, and in places you'll be holding on to tree routes as you haul yourself up the slope. Thankfully, the rewards in terms of scenery and solitude are more than ample.
Note that the following itinerary is for six days. True, Umbwe can be done in five. But we strongly advise you to build an extra day into the itinerary.  This will help you acclimatize properly and give you the greatest chance of reaching the summit. In most cases, that will mean stopping at Karanga Campsite at the end of Day 3 (see below).
The following itinerary is the most popular version of the Umbwe Route. On this trail you head via Barafu Huts and Stella Point to the summit. Do remember, however, that for a true adventure there is the option of using the Western Breach to the summit.
DAY 1: UMBWE GATE TO UMBWE CAVE CAMPSITE
Distance: 9.91km; Altitude Gained: 1293m
As the closest gate to Moshi, getting to the start of the Umbwe trail is uncomplicated. With the Umbwe Route one of the quietest on the mountain, too, it follows that we should be one of the first parties to begin our trek on the mountain today. Maybe even the first.
Indeed, it's entirely plausible that we'll be the only party on the mountain that day…
It's easy to wallow in the splendid tranquility of this route. But trekkers also find the first day quite taxing. Because the march under Kilimanjaro's humid forest canopy can be a bit of a sweat-fest.
Thankfully, there are plenty of features to distract us from our labours. Some beautiful plants, massive trees – and a good chance of seeing Colobus and blue monkeys calling from the branches above.
Our first campsite on the trail is the wonderful Umbwe Cave (2944m), buried deep in the forest. We will arrive to find our tents already erected and a snack awaiting, with dinner served in the early evening.
DAY 2: UMBWE CAVE CAMPSITE TO BARRANCO HUTS
Distance:
 5.26km; 
Altitude Gained:
 1042m
There are a couple of surprises awaiting us on this second day. The first is the fact that our guide will probably start to set a deliberately slow pace in order to help us acclimatize.
The second surprise is that it felt that we spent last night in the heart of the deep, dark forest. But this morning it's only a matter of minutes before the forest starts thinning out and we enter into the heath and moorland zone. It's a lovely morning, with fantastic views down to the valleys on both sides.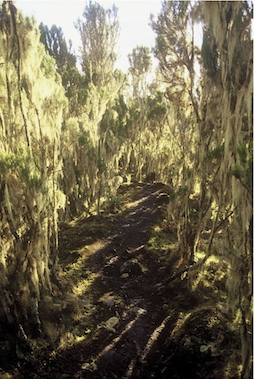 Some of Kilimanjaro's most famous plants, including the alien-looking senecio and lobelia, now decorate the trail as we continue our climb. The gorgeous views continue all around – including, for the first time, the Kibo summit itself.
Continuing up the southern slopes, a third surprise of the day awaits. Because, for virtually the first time on the entire trek, the path actually drops for a few minutes! It does this as it winds its way round to the Barranco Campsite (3986m) – many people's favourite on the entire mountain. That said, it is extremely busy these days.
DAY 3: BARRANCO CAMP TO KARANGA VALLEY
Distance: 5.1km; Altitude Gained: 48m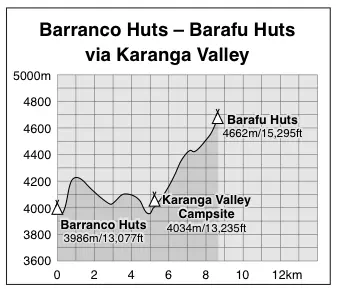 Today is a short day of only three hours or so.
Which may leave you wondering: why don't we just combine it with the next day to make one long day?
Well, taking this short day is actually very wise. Because we need to make sure we are fully rested and relaxed in order to prepare ourselves for the extra long day tomorrow. Even more importantly, we need to give ourselves as much time as possible to acclimatise. Because tackling the final climb to the summit tomorrow night, at the end of day 4, rather than tonight, could be the difference between getting to the summit and failure.
At the risk of sounding melodramatic, it could also mean the difference between surviving the trek – and not surviving.
Short though it may be, the start of today is still a bit of a shock as we begin by tackle the Barranco Wall. Taking over an hour to climb, we may need to use our hands on occasions to haul ourselves up the rocks. But don't be over-concerned – because this is not mountaineering, and the wall is not dangerous. Indeed, I've never heard of anyone falling off it.
In fact, I have never even heard of anyone failing to complete it.
At the summit of the wall the path drifts and meanders gently down to the Karanga Valley, a gorgeous little place where malachite sunbirds flit from flower to flower. Both lunch and dinner are be served at this campsite.
Don't be too disheartened by the fact that, despite all our efforts today, we're only 48m higher than when we left Barranco this morning. Because the extra acclimatisation we've enjoyed today could help us immeasurably tomorrow.
DAY 4: KARANGA VALLEY TO BARAFU CAMP
Distance: 3.4km; Altitude Gained: 628m
On a six-day itinerary this fourth day is similar to the previous one. It's a short walk of three hours or so as we continue our traverse of Kibo's southern side. We will hike through a spectacular lunar landscape bereft of life on our way to Barafu Camp (4662m), on the south-eastern shoulder of Kibo. Here we will rest, take lunch and dinner, and try to get some sleep before the rigours of the night ahead….
NIGHT 4/DAY 5: BARAFU CAMP TO SUMMIT AND DESCENT TO MWEKA HUTS/CAMPSITE
Distance: 4.86km to Uhuru Peak; then 11.5km descent to Mweka Camp Altitude Gained: 1233m to Uhuru Peak, then a descent of 2789m.
Arising at around midnight, we begin our slow march up to Stella Point (5745m) on the edge of the Kibo crater. It's a steep, slow, cold march and a test of our endurance. But this is where we earn our Kilimanjaro certificate, so try to keep on keeping on. Because, providing we have avoided altitude sickness and have acclimatized well, there is no reason why we shouldn't make it up to Stella Point. This we reach, all being well, at around 5am, though it can be much later depending on our condition.
From Stella Point it is a mere 45 minutes further on, past glaciers and snowfields and with views over the Kibo Crater, to Uhuru Peak. At 5895m, this is the highest point in Africa!
Here, if we're on time, we can watch the sunrise over the African continent, take photos, and take a breather too.
After a rest at the top, we continue back down to Barafu Camp – a walk that is considerably quicker than it was on the way up! At Barafu we take breakfast and relax for an hour, before continuing our march down the mountain, this time on the Mweka Trail.
The rest of this day's walk takes us back down through the alpine desert, heath and moorland zones until we once more enter the forest zone via Millennium Camp (3827m).
There, amongst the trees, we find the Mweka Campsite (3106m), our final stop on the trek. We should arrive there at about 4pm and we have been walking for around 16 hours, less breaks! Exhausting but, if we made it to the top, we'll think it was worth it!
Day 6: MWEKA CAMP TO MWEKA GATE
Distance: 9.1km; Altitude Lost: 1473m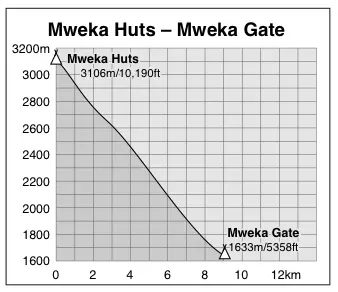 It's just a couple of hours further now from the campsite to Mweka Gate (c1633m), where those who made it to the summit or Stella Point will collect their certificates. A car will be waiting to take us back to our hotel, and a land of warm showers and cold beers. Our trek is at an end.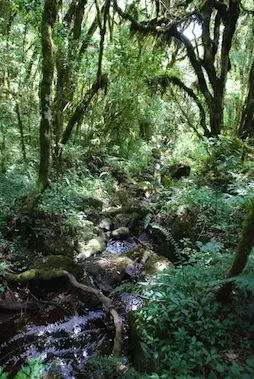 UMBWE ROUTE GPS
For a file of GPS waypoints for all our routes, please click on the following link GPS Waypoints. This will take you to the relevant page on the website of Trailblazer Publications, who publish the Kilimanjaro guide. The file is in .gpx format, so you can download it straight onto your GPS.