Fitness preparation for climbing Kilimanjaro
How fit do you need to be to climb Kilimanjaro?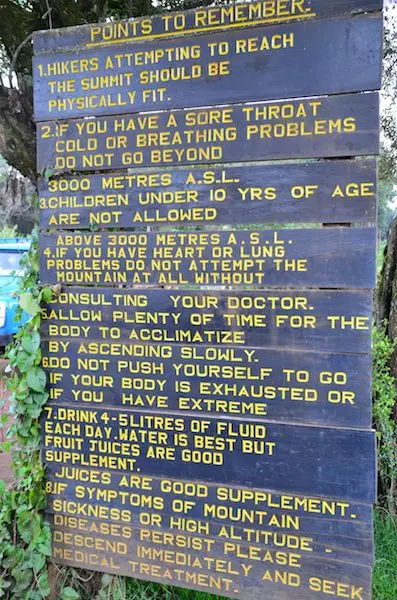 The more exercise you do down here, the more you'll enjoy it up there. But there is no need to go overboard with your fitness preparation for climbing Kilimanjaro. Last year, three people who had booked climbs with us had to postpone their trips after hurting themselves following an exercise regime before they had even arrived in Tanzania!
That said, the fitter you are, the more enjoyable your trek up Kilimanjaro. And It's true that some do, indeed, fail through sheer lack of fitness, strength and stamina.
After all, on the final push to the summit you will be walking at very high altitude for about 16 hours! So a certain degree of fitness is necessary. So anything you can do in the way of training can only help.
Whatever the fitness regime you decide to follow, a few days of walking at some point would be a good thing to do; it won't improve your fitness to a great degree but it will at least confirm that you can walk for more than a few hours at a time, and for more than one day. Wear the clothes you plan to bring to Kilimanjaro with you – particularly your boots and socks – and carry the daypack that you hope to be carrying all the way to the top of Kibo too.
One more thing: if you're planning on relying on it on Kilimanjaro, try Diamox before you go to make sure it has no severe adverse reaction on you. (See the section on Diamox if you have no idea what we're talking about here!)
The mental challenge of climbing Kilimanjaro
Just as important as getting yourself physically prepared for climbing Kilimanjaro, you also need to get yourself mentally ready for the challenge too. Because if altitude sickness is the number one reason why people fail to get to the top of the Roof of Africa, then in my experience the second most common reason for failure is that people just aren't ready for the hardships.
In other words, it's not altitude sickness that's stopping them from getting to the summit – it's attitude sickness.
So be warned that a lot of the challenge of climbing Kilimanjaro is mental. It's cold up there, and you may at times feel terrible too (headaches, nausea and loss of appetite are just three of the symptoms most climbers will suffer at some point during their trek). IT may be hammering down with rain for days on end, you're soaked through, miles from camp and not enjoying the experience at all.
It's at times like that when you'll need to dig deep, remind yourself why you're doing this, what made you decide to climb in the first place, how much money you've spent in getting this far, and how you'll feel if you do give up now. Remind yourself, too, that the weather does change quickly on Kilimanjaro; that while it may be tough now, things will get better.
You just need to be patient, and keep going.
So prepare yourself for some tough hours when you may want to give up. Overcome those and, as long as you've acclimatised properly, there's no reason why you shouldn't get to the top of Africa's Highest Mountain too.
<< Prepare For Killimanjaro | Kilimanjaro is good for you – fact! >>