WELCOME TO CLIMB MOUNT KILIMANJARO!
We've been writing the bestselling guide book to climbing Kilimanjaro since 2001.
These are the SIX questions we get asked most often about trekking on Africa's Highest Mountain – and our answers to them!
1. How hard is climbing Kilimanjaro?
2. Which is the best path up Kilimanjaro?
3. When's the best time to climb Mt Kilimanjaro?
4. How much does it cost to climb?
5. What should I pack for my Kilimanjaro climb?
6. How fit do you need to be?
1. So how difficult is it to climb Mount Kilimanjaro?
The first and most important thing I need to say on this matter is as follows: All the main routes up the mountain are just walking routes.
I really need to emphasise this point: you do not need any technical climbing or mountaineering skills to get to the summit. So you don't need to be a mountaineer. You just need to be able to walk.
Indeed, given the number of paraplegics and those in wheelchairs, even that skill is not essential. Blind climbers have felt their way to the top and amputee victims have hobbled and crawled up to the top.
Even the walking is not particularly exhausting. After all, just do the maths. For example, the most popular route is the Machame Route, which is 60.76km (37.75 miles) in length in total from gate to summit and back to gate. Do it in six days and that's only a fraction over 10km per day (ie just over 6 miles); do it in seven days and it's only around just 8.5km per day, ie a little under 5.5 miles per day.
(You can follow this link to find a table showing the total distances of each route.)
So why do people fail to reach the summit?
Don't be fooled into thinking that getting to the top is easy. You still have to battle against the cold and exhaustion. Most importantly, there's the lack of oxygen that's available to breathe at altitude and the complications (altitude sickness etc) that follow. This is what defeats most climbers. Which is why we go into detail on this site (and even more so in the book) about altitude sickness, its symptoms, how to prevent it – and what to do if you get it.
I would say that over 90% of people fail because of altitude sickness. The rest: well, injuries or other illnesses undoubtedly cause others to stop before they reach the top: upset stomachs can be common on Kilimanjaro. A lack of fitness counts for a few people, though not that many.
But I have to say that, after altitude sickness, the most common reason as to why people fail to get to the summit is attitude sickness. In other words, people just give up. Which is why it's important to understand just how hard it can be to climb Kili, and to be aware of all the hardships and privations – the cold, the possible lack of sleep, the nausea and headaches etc – that you'll suffer on the mountain.
If you're aware of them, you'll be prepared for them – and, as such, you'll be less likely to give up on the mountain.
Avoiding altitude sickness?
Well, reading our advice about altitude sickness on this site and in the book will help.
It also helps if you can go with a decent company, which is why we provide a lot of information on this site about how to choose a trekking company. It is also why, in the guide book, we provide reviews of over 80 of the most prominent companies working on the mountain (as well as the overseas agents that use them). Or if you can't be bothered to read all that, then we do have our own trekking company, Kilimanjaro Experts, which we believe ticks every box when it comes to being a safe, fairly priced and ethical operator.
2. Which is the best route up Kilimanjaro?
THE ASCENT ROUTES
There are six official paths leading up the slopes of Kilimanjaro to the summit (which is called Uhuru Peak).
The first thing to say is that all routes on Kilimanjaro are beautiful. So if you have been booked on a trek up Kilimanjaro, and had no say in what route you will be taking, then don't despair: you should have a great time on a lovely route, whatever trail you end up taking.
That said, there's no doubt that some routes are better than others. You can read about each one in detail in our Kilimanjaro Routes section, including a day-by-day itinerary for each route.
To see a map of the Kilimanjaro routes please click on the image below.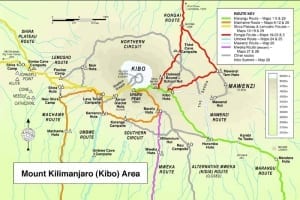 But by way of introduction, let's look at each one briefly now:
Marangu Route
This is the oldest and second-most popular route up Kilimanjaro. It is perhaps most well known as the one route on Kilimanjaro where you sleep in huts rather than camping in tents. I think it's a great route but it does, it must be said, have at least TWO significant drawbacks.
1) The first disadvantage is that the Marangu Route is the only trail where you take the same path back down as you did on the way up. In other words, you see the same scenery twice. Now in the book we describe places where you can vary the descent route so that it is at least slightly different from the ascent route. But given that most of you will only be climbing Kilimanjaro once, it's a shame that you won't be seeing as much of the mountain as you would be on other routes.
2) The other disadvantage? Well, it also, statistically, has the lowest success rate for getting people to the summit. This could be due to various factors. Because it's one of the shorter routes, so it allows people less time to acclimatise, and some people are daft enough to try to complete it in five days. We also think the altitude profile may hinder acclimatisation. And thirdly, because you sleep in huts on this trail, so perhaps it attracts the sort of person who is unused the outdoors, and wants to avoid it where possible – and they, perhaps, are the sort of person who may give up on the climb more readily than those who are more used to the outdoor life.
More on the Marangu Route >>
Umbwe Route
I love the Umbwe Route. I think it's just beautiful, and so, so peaceful. That makes it really special. But there's a reason why it's quiet. The first couple of days are steep, and thus not ideal for acclimatising (the best way to acclimatise and thus avoid altitude sickness is to gain height slowly, whereas on Umbwe, you can gain around a thousand metres in altitude every day all the way to the top).
But Umbwe is, like all the other trails, just a walking route – there's no actual climbing involved. So how can you enjoy the beauty and serenity of Umbwe without ending up with altitude sickness? Well there are several solutions. 1) Climb Mount Meru beforehand, so you are already acclimatised before you even reach Kilimanjaro; 2) take an acclimatisation day at Barranco (which you reach at the end of the second day), so you spend two nights there, and spend that rest day climbing to Lava Tower and back. By doing this, you'll be mimicking very closely the altitude profile of the Machame Route, the most popular route on the mountain. 3) If you have the time and money, take our Full Circuit Umbwe Route which allows you to enjoy Umbwe before moving to the almost-as-tranquil northern side of Kibo. Not only does this give you a much better chance of acclimatising, but you get to see more of Mt Kilimanjaro than you do on any other route – perfect!
More on the Umbwe Route >>
Is the Umbwe Route the mountain's best-kept secret? >>
Machame Route
Like Umbwe, this starts on the southern side of Kilimanjaro. Unlike Umbwe, however, this is actually the most popular route on the mountain. Why? Well, essentially, it's the nearest thing that Kilimanjaro has to a bog standard trail: if you want a good chance of getting to the summit, and want to do so relatively cheaply (well, at least compared to some of the other routes), and aren't too bothered about the experience you have on the way, then this is the route for you. And, to be fair, it is a pretty route, and quite interesting.
But if you do care about what kind of experience you're going to have on Kili, then I would look elsewhere. Why? Because, simply put, Machame is just too busy now. Around 20 years ago, this route was known as the Whiskey Route as, compared to Marangu (which was known as the Coca Cola Route), where the climbers sleep in dorms, here on the Machame Route people slept under canvas. As such, Machame was advertised as a tough route for tough people. Which, if you've climbed on it at any point over the past decade or so, you'll know is a bit silly. But unfortunately, many companies, particularly lazy travel agencies in North America and Europe, continue to advertise it as such – and people continue to book a trek on it because they think they're getting a true wilderness experience. It's only when they start walking do they realise that, far from being a trek that's only for the tough, you're actually just joining a queue of people snaking up the mountain all the way to the summit.
Maybe I'm being a little harsh. But nowhere else on Kilimanjaro have I felt more like I'm on a conveyor belt of people just shuffling towards Uhuru Peak than on the Machame Route, particularly during the full moon. So by all means take the Machame Route – it's cheaper than other trails (it's close to Moshi, so the transport fees are less for the ground operators), it is pretty, and it does have a great success rate (the best for a six-day trek I reckon). Just ignore the hype about it being a quiet, tough trek – because it really isn't!
More on the Machame Route >>
Is the Machame Route too busy? >>
Lemosho Route
The longest route on the mountain is also one of the best. The forest is at its lushest on Kilimanjaro's western side, where the Lemosho Route starts, the scenery is great, the views across the Shira Plateau to the snowy Kibo summit are wonderful, and the success rate for getting people to the top is good – largely because it is usually done over eight days rather than six or seven. If you're looking for disadvantages, then it is getting busier, and parts of the trail are crowded now, particularly when you join up with the crowds on the Machame Route from the fourth day onwards. (It is for this reason that we prefer the Alternative Lemosho Route, which is quieter and, in our experience, has an even higher success rate. However, this is not an official route, so we haven't provided a summary of it in this section – though you can read about it by visiting our Alternative Lemosho page.) It is also more expensive than other routes, because it takes longer and because the transport costs to take you to the start of the trail are higher. But if you can afford the time and money to take a trek on the Lemosho Route (or Alternative Lemosho Route), you'll be glad you did!
More on the Lemosho Route >>
Shira Route
This is largely a four-wheel-drive trek for emergency vehicles coming down from Shira II Campsite and few people take this trail now. However, I mention it here as some agencies (usually foreign, with little knowledge about the mountain) mix up the Lemosho and Shira Routes. To make sure you're on the Lemosho Route (which you want to be) and not the Shira Route (which you don' want to be), check where you're camping on the first night. If it's Mti Mkubwa, or Big Tree Camp, then you're on the Lemosho Route. If it's not, then you could be on the Shira Route.
There is one large tour operator that still takes clients on the Shira Route, and claims to have a very good success rate for getting people to the summit on that route. That may be, but they begin each trek by driving all the way up to the Shira Plateau, thus denying their climbers the chance to experience some of the best forest on the mountain. Which just makes me shake my head in despair.
More on the Shira Route >>
Rongai Route
Also known as the Loitokitok Route, this route is the only one running from the north-east side of the mountain, and starts right by the border with Kenya. It's a lovely route, and again, pretty peaceful, at least when compared to Machame and Marangu. If I had to pick holes in it, well it doesn't have a great stretch of forest – you walk through it in about half an hour. This is mainly due to the depredations of the locals who forest the lower slopes of Kili (this is the only route where you actually start off by walking past farms, rather than in forest). The northern side of Kilimanjaro is also the driest side, which is why the forest is less impressive on this side. but other than that, it's a great route, particularly if you opt for the diversion up to Mawenzi Tarn, which adds a day or two to the itinerary but is worth it for both the views and for the acclimatisation.
More on the Rongai Route >> 
Unofficial trails up Kilimanjaro
In addition to these trails there are a few 'unofficial' routes up Kilimanjaro, such as the Alternative Lemosho (aka Northern Circuit Route) and the Full Circuit Umbwe. These 'unofficial' routes essentially combine parts of the above trails, all joined together to make a new route. These can be some of the best hiking trails around, with high success rates and fewer crowds.
THE DESCENT ROUTES
The rules regarding which path you take to descend are as follows:
Those on the Machame, Umbwe, Lemosho or Shira routes must take as their descent trail the Mweka Route
Those who ascended on the Marangu or Rongai/Loitokitok trails must descend by the Marangu Route.
So which path up Kilimanjaro is the best?
It's a question I get asked an awful lot. And I could go into a great detail about the relative advantages and disadvantages of each route. But to keep it simple, this is what I usually say:
Of all the trails in the park, my favourite route is possibly the 8-day Alternative Lemosho Route. (Note that some companies call this the Northern Circuit but be careful, as this name can refer to several quite different routes.) It is, in my opinion, the route with the best forest for the first day or so; the best views and scenery once you leave the forest; it takes you away from the crowds that are on some other trails, choosing instead to opt for quiet paths away from the crowds and the noise; and because it is the longest route, so it gives you more time to acclimatise – and thus it also has the highest success rate of any on the mountain. If you can't find a company that deals with this route specifically, then the standard Lemosho Route is good too, though this does have more crowds on it and the success rate is slightly lower.
Just as great is the Full Circuit Umbwe, which is even quieter than the Alternative Lemosho, and more varied, but we are the only company that currently offers this route, and, at the time of writing, as a private tour only.
The big disadvantage with both the Lemosho or Alternative Lemosho Route (and the Full Circuit Umbwe) is that, because they are the longest routes, so they are best done over 8 days rather than seven – and as a result are a little more expensive than the other routes.
So if you can't afford the time or money for an 8-day route, then the best seven-day route is Rongai. Again, this has some spectacular views, is quieter than many other routes – and again has a very high success rate of any seven-day trek. Finally, if even a seven-day route is too expensive, then the best six-day route is Machame – it's overcrowded at times but it's cheaper and has, for a six-day route, a good success rate for getting people to the summit (though not as good as the seven- or eight-day routes, of course).
Of course, this is just my personal opinion and there are advantages with all the routes. If you don't want to sleep under canvas, for example, then the Marangu Route is the best choice, as it's the only one where you sleep in dormitories. Or if you want a more adventurous route, I think the Umbwe Route is perfect – quiet, steep and spectacular.
Do feel free to get in touch if you having trouble deciding on a suitable route for your trek and I'll do my best to help.
Other factors that will help you get to the top? Well, you should:
Take as many days as you can afford to climb to the summit, on a route with a high success rate. Treks typically last 5-8 days, though we consider five days to be too short – and dangerous! – and so should you. Remember: the longer you spend on the mountain, the greater your chances of getting to the summit.
Stick to a training regime before you leave,
Eat and drink plenty when you're on the mountain.
And to help you negotiate the whole process of preparing for your trek, we've compiled a schedule that takes you step by step through the process of preparing for your trek. And you can follow this link for advice on how to maximise your chances of reaching the summit.
Do all of the above and, with a bit of luck, you'll be fine. But even if, after all our advice, you still fail to get to the top, well at least you're in good company. Famous people we know who failed to reach the summit include tennis ace Martina Navratilova, tycoon Roman Abramovic and, so it has long been rumoured, mountaineer and conqueror of Everest, Sir Edmund Hillary!
3. When should you go?
The mountain is open every day of the year. There are two rainy seasons, April-May (known as the 'Long Rains') and November-mid December (the 'Short Rains'), and few people climb at this time. So the main trekking seasons coincide with the mountain's two 'dry' seasons: January to mid-March and June to October.
Note that it will still probably rain on your trek during these months too – it's rare to climb without getting rained on at least once.
You can read more about the mountain's seasons by visiting our trekking seasons and weather pages.
So when is our favourite time to climb Kilimanjaro?
Personally, we like to trek in March and October. There are two main reasons for this:
1) The weather is usually good and the skies are often clear during these months.
2) Because they both fall just before the rainy seasons, they tend to be quieter than other months. People are probably afraid that the rains will come early, so opt to avoid these months. But in our experience, the rains are more likely to fail than arrive early. Thus the mountain is usually emptier, and quieter. And yet the weather is still lovely.
These are the reasons why March and October are our two favourite months and we think the best time of year to climb Kilimanjaro. Note that occasionally the rainy season does arrive early – such as in October 2019, when the weather was dreadful – but these are the exceptions.
Note that June and late December, though they also fall outside of the rainy seasons, but only just, are not such good times to be on Kilimanjaro in my experience. The clouds tend to linger after the rainy season, even if the rains have largely finished, so views are restricted.

4. How much does it cost to climb Kilimanjaro?
The cheapest way to organise a climb is to just turn up at the airport, get a taxi to Moshi or Arusha, and begin negotiating with the companies there. That said, you need to have confidence in your bargaining skills, and – at the risk of sounding like a salesman! – it's a good idea to have a copy of our book so you know how to haggle, what to look out for, and what should be in the contract that you sign.
If you book in Moshi then you can, just possibly, get a Kilimanjaro trek starting at about US$1000 – though I cannot guarantee the reliability or honesty of any company charging so little; one thing I can guarantee is that their treatment of porters will be terrible, so please let your conscience be your guide when deciding whether to book with these companies.
Most decent companies will charge at least double the price above – ie around US$2000 for a standard trek on the Machame Route. That said, many of the better – or at least more expensive – companies can charge US$3000 or more, and some go up to US$5000 per person or more for a trek.
Included in this price should be the following:
Airport transfers at the start and end of your trip
A couple of nights in a hotel, usually one either side of the trek
Transport to and from the mountain at the start/end of the trek
All park fees, rescue fees, conservation fees and camping fees
Food and drink on the mountain, as well as camping equipment
Wages of your guides, assistant guides, cook and porters
Other items to look out for? Well there may be some sort of financial failure insurance (so, if the company goes bankrupt, your money is safe; all UK companies – indeed, I believe all European companies – have to have this.) Oxygen on the mountain should also be issued as standard though some charge extra for it; you'll need it so make sure that it is included. And some foreign agencies may also include flights.
Which begs the question: what isn't usually included in a trek package? Well, the big ones are
Airfares
Tips
Tanzanian visas (US$50 for most people, US$100 for American passport holders)
Meals when you're not on the mountain (other than breakfast).
Travel insurance
Souvenirs
Need more info? Well do check out our pages on How to book a Kilimanjaro trek.

5. What should I pack for my Kilimanjaro climb?
Your trekking agency will provide you with a list of clothes and other items that you need to bring for your trek.
Typically, they will provide a tent and cooking equipment – so you don't need to bring them.
The ground operator may also supply sleeping mats and, in some instances, sleeping bags too – so check with them.
We have provided a comprehensive packing list for Kilimanjaro.
6. How fit do I need to be?
While it is always good to get fit, there's no need to go overboard with fitness preparations for climbing Kilimanjaro. Some guidebooks and websites go into extraordinary detail about fitness regimes. I, however, along with most of the guides and, indeed, the majority of trekkers who have climbed Kili all think that most of these regimes are unnecessary. Why? Simply because the main reason why people fail to reach the summit is due to altitude sickness rather than lack of necessary strength or stamina.
So just remember: you don't need to be very fit to climb Mount Kilimanjaro. It's more that you need to be 'not unfit' (if that makes sense). If you're out of shape on the mountain, then you'll find it a struggle tackling the gradients each day, may fall behind your friends (even though you should all be going very slowly), and will generally have a fairly unpleasant time – which is not what any of us want.
Besides, in all probability on the final push to the summit, and back down again, you'll be walking for around 16 hours, at night, and it's too cold to take many breaks. So try to get into some sort of shape before your climb – it may increase your chances of reaching the summit only slightly, but at least you'll enjoy the trip much more.
So what sort of training should you do? Well, there is no substitute for following a structured anaerobic and aerobic training regime for at least 12 weeks in the run up to your trek. Running, jogging, swimming, cycling – all of these are good exercises to follow.
The best thing you can do, however, to prepare for your walk – is to go for a walk! If that walk can include some uphill stretches, so much the better. If you can actually go for a multi-day walk, and camp out overnight on the way, then that's really useful, for it mimics the experience you'll have on Kilimanjaro, of course. And if you have any mountains near you, and you can get to altitude (above 2000-3000m), then that's pretty much the best preparation you can have. (It is for this reason that several savvy climbers book a trek up Mount Meru, Kili's neighbour, immediately before climbing Kilimanjaro. It's a great idea, and and wonderful trek, and not just because it provides ideal preparation for Kili.)
Don't forget to prepare yourself mentally, as well as physically. A lot of the challenge of climbing Kilimanjaro is mental. It's cold up there, and you may at times feel terrible too (headaches, nausea and loss of appetite are just three of the symptoms most climbers will suffer at some point during their trek).
Being in good physical shape will help you feel better and more confident about the challenges you face, but do prepare yourself, too, for some tough hours when you may want to give up; overcome those and, as long as you've acclimatised properly, there's no reason why you shouldn't get to the top of Africa's Highest Mountain.
For more information on preparing mind and body for Kilimanjaro, please visit our fitness for Kilimanjaro page.
THE SLIGHTLY SMALLER QUESTIONS: Other stuff that people often ask….
WHAT TO DO NOW
Read through the above? Still want to climb Africa's Highest Mountain? Don't know where to go from here? Then read on..
If you're looking to organise your own African Adventure, then the next thing to read is our Countdown; this is our step-by-step guide to planning for your trip. This tells you exactly what to do when planning your own expedition – and when.
After that, you may want to go through our site in greater detail. You'll find that it's divided into four main sections, which together provide you with all the basics you need to know to plan and prepare properly for your Mount Kilimanjaro trek:
Information about the history, geography, geology, flora and fauna of the mountain. Not essential, but (hopefully) interesting.
Vital information for anyone planning a trek, from when to go to the best route to take and what to pack.
What's it like on the mountain? What do you eat? Where do you sleep? Who's in your crew? How much should you tip?
Information for those looking to explore the country in greater depth, with plenty of useful info for Kili trekkers too.
In addition, you'll also find details of our own climbing outfit, Kilimanjaro Experts, where all my favourite guides, cooks and other mountain crew staff that I've climbed with over the past two decades have been gathered into one great value, ethically-minded company.
Still want more info? Well you can't beat our bestselling guide book, which provides comprehensive advice on climbing, including REVIEWS OF ALL THE MAJOR TREKKING COMPANIES. You'll also find guides to the towns and cities that will act as the base for your trek, plus, of course, detailed descriptions of all the routes on both Kili and Meru, written by somebody who has climbed them all. Many times. The book has now been published since 2001 and is currently in its fifth edition.
Oh, and I don't think we've mentioned our news blog yet, which has all the latest news from the mountain.
And if you still can't find the information you require, then just email us at henry@climbmountkilimanjaro.com or henry@kilimanjaroexperts.com and I'll be happy to help in whatever way I can.